These articles are about the history of Wakefield and how old everything in the village is, and how many families are still around.  Wakefield is rich in history.
The small New Zealand community of Wakefield is situated some 25 km south west of Nelson at the top of the South Island.
The history of Wakefield as a European settlement started in 1843, when it was originally called Pitfure. However the name was soon changed to Wakefield. This name was after the town of Wakefield in Yorkshire, and not, as many assume, after Captain Arthur Wakefield who led the expedition that first established Nelson City and Province.
Wakefield is notable for Wakefield Primary School, the oldest school in continuous usage in New Zealand. It was set up in 1843 by Mary Ann Baigent, the wife of Edward Baigent.[1] St John's Church in 120 Edward Street, built in 1864, is New Zealand's second oldest surviving church. It is registered by the New Zealand Historic Places Trust as a Category I heritage structure, with registration number 40.[2]
Wakefield comes under the responsibility of the Tasman District Council, which has its offices in the nearby town of Richmond. It is part of the West-Coast Tasman General Electorate.
There is a small paper called the Window on Wakefield published monthly and distributed to the community.
The site of the Wakefield Hotel was originally part of Section 85 and was a four acre block owned by…
Though strictly not a Wakefield Historic Building this building has fielded more questions than any other building in Edward Street,…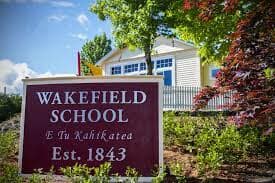 Post the Wairau Affray in June 1843, there was a high level of anxiety amongst…